Dermalogica products are available for in-office purchase only. We provide the product information here for your convenience. Thank you!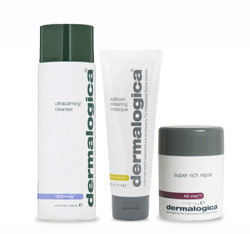 For over 25 years, Dermalogica has been dedicated to delivering skin health results through education, innovation, and professional recommendation, not through advertising, frilly packaging, promises of miracle cures, or overblown hype. When the line was introduced in 1986, Dermalogica immediately upset the prevailing paradigm of beauty and glamour by classifying skin care as a health issue as opposed to a cosmetic concern, providing a product line free of common irritants and ingredients that could cause breakouts (including lanolin, SD alcohol, mineral oil, artificial colors and fragrances) and that would improve skin health.
With a complete line of skin care products that address a wide range of skin concerns including aging, acne and dryness, Dermalogica is a leading choice among skin care professional. Their high-performance formulas restore health, youth and beauty to all skin types.